Punnett Square Calculator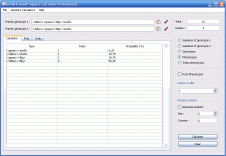 We represent interesting and unique product in biology education and science, specifically in genetics - Bifido Punnett Square Calculator. This is useful and fast genetic calculator for predicting the offspring results of genetic crosses. The application can show all possible allelic combinations of gametes and produce genotypes and phenotypes ratio and probability for these crosses. You can easily generate punnett squares with unlimited number of genes and results will be ready in less than one second due to unique algorithms of this calculator. The complete accuracy of these results we can guarantee. From now punnett squares calculation will no longer be the hard work for you, because you can get this free powerful genetic calculator.
You can discover all the secrets of genetics with this program and become a guru in genetics. Only one small step you need to do - GET IT NOW!!!
| | |
| --- | --- |
| Developer: | Bifidosoft |
| Version: | 4.0 final |
| File size: | 14.3 Mb |
| Language: | En / Ru |
| License: | Free |
| OS: | Win XP/Vista/7/8 |